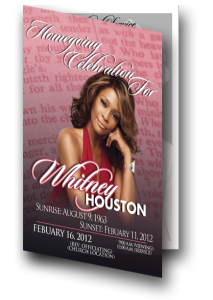 A. 8 ½ x 5 ½ PROGRAMS
SINGLE FOLD
4 PAGES INCLUDE:
1 POEM
Up to 2 PHOTOS
SINGLE FOLD, FULL COLOR,
100 LB, GLOSS PAPER

B. 8 ½ x 5 ½ PROGRAMS
8 PAGES
8 PAGES INCLUDE:
4 POEMS
Up to 12 PHOTOS
SINGLE FOLD, FULL COLOR,
100 LB OUTSIDE, 80 LB INSIDE, GLOSS PAPER
C. TRIFOLD
11 x 17 PROGRAMS
6 SECTIONS
4 POEMS
Up to 12 PICTURES
TWO FOLD, FULL COLOR, 80 LB, GLOSS PAPER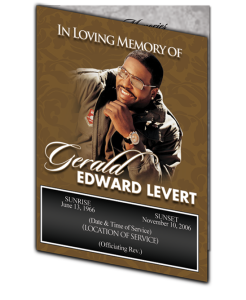 D. MAGAZINE STYLE
8 ½ x 11 PROGRAMS
8 PAGES
5 POEMS
Up to 25 PICTURES
SINGLE FOLD, FULL COLOR, 100 LB OUTSIDE, 80 LB INSIDE, GLOSS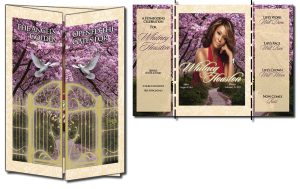 E. HEAVENS GATE PROGRAMS
6 PAGES and 2 SECTIONS
5 POEMS Up to 25 PICTURES
GATE FOLD, FULL COLOR, 100 LB, GLOSS PAPER
• UV COATING
• PORTRAITS
• BANNERS
Give us your pictures and your words, and we'll create a first class design that memorializes your loved one!

JUST 3 EASY STEPS:
STEP 1

PHOTOS
CHOOSE THE PHOTOS TO BE INCLUDED
Select a package, upload
the photos/or you can
bring them to us, then
we will scan them and
do the rest.
Use your own design and we'll print a High Resolution program with same day turn around.

STEP 2
WORDS
PROVIDE THE WORDS FOR
The obituary,
order of service,
pallbearers etc.,
your thank you's
& blessings…
STEP 3
SCRIPTURE

SELECT A SCRIPTURE TO BE INCLUDED
Provide a scripture from your
book of worship and we will
include it on the memorial.